The INK SEO Editor helps you check your easy to read content.
INK SEO Editor Word Task Card is a micro-to-do list. It helps you check your easy to read content, as well as ensure it is spelled correctly and is long enough to be competitive. If you're new to SEO or an expert, you will save time using our INK SEO Editor and software. It can be downloaded here.
The Word Task Card are composed of spelling and grammar suggestions, helps identify hard to read sentences, composition details and adverbs, passive voice checker and any consecutive sentences you may have.
Now let us show you how to check your easy to read content
First enter your key phrase into the top right field under "SEO" this will initiate INK's proprietary SEO. Our AI that runs this analysis is created by decades of expertise and a passion for innovation.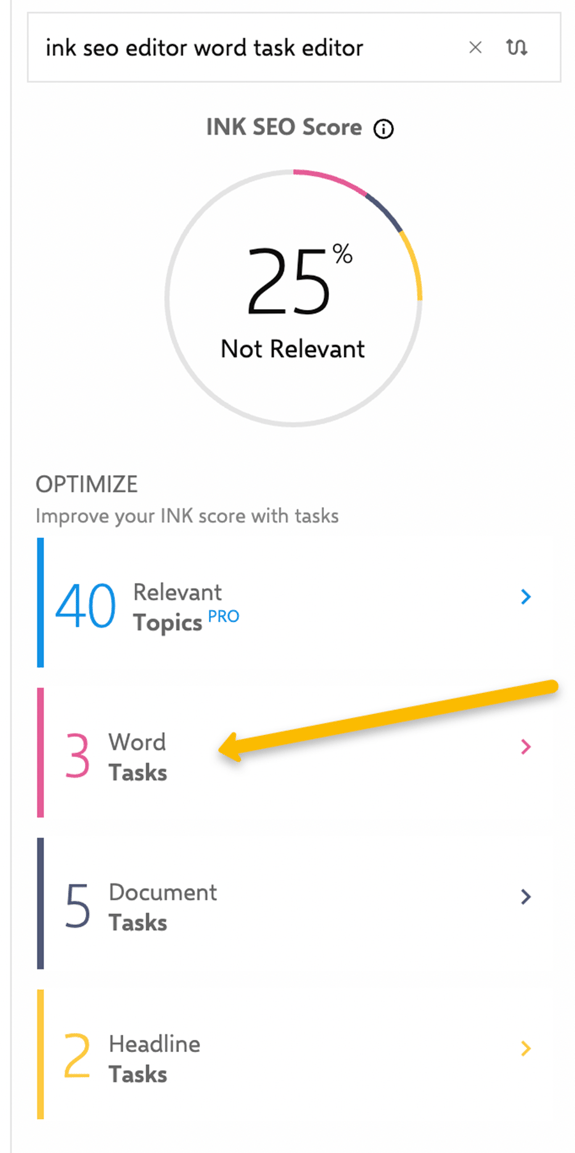 1. Spelling and Grammar
An article that has proper spelling and grammar helps readers not be distracted and focus on digesting the content they are reading. Poorly spelled writing is difficult to follow for some and the result is your website, authors, and content lose credibility.

2. How long should your article be?
INK answers that with the word count suggestion. It is carefully calculated and is specific to your key phrase. The INK recommended word count is solid indicator or how long you should aim for the article to be.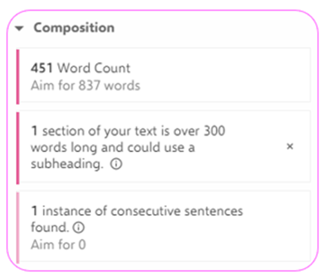 A good blog, article or page on your website needs to be free and clear of mistakes to provide the most value for your readers. It also needs to be long enough to compete with other pieces of content that are available for search engines and are being compared to yours, by a number of factors.
Ultimately, serving your audience is the chief aim and goal however if you don't have enough content in comparison to your competitors you will not be found in search results.
Using INK's AI writing assistant at the bottom of the INK SEO Editor can help provide more suggestions for content that could make your content more competitive and relevant. The INK AI assistant is not meant to replace writers, it is intended to save writers time, make writing content easier and cure writer's block.

3. What is readability?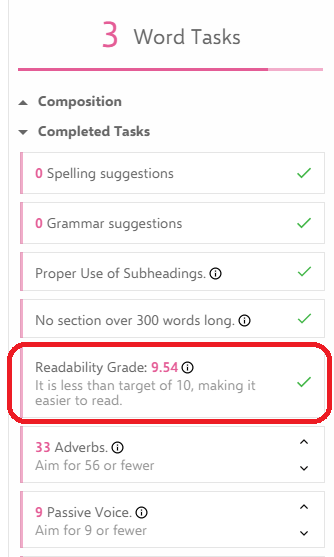 The readability of a text is a measure of how easy it is to read it. You can find this in the Word Task Card. The reading level for your article should be as low as you can get it for the subject matter. There are some subject matters that will naturally require a higher reading level. Don't let your self get stuck here. If you are talking about complex things you will need to override the readability suggestions with your human judgement.
4. Why is readability important?
Easy to read content captures readers and answers their questions without making it too complicated. Check your easy to read content using the INK SEO Editor and save yourself some time and be confident in the quality of your work.
5. Completed Tasks Is the Goal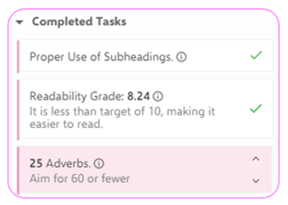 Now that you understand what makes content easy to read, it's time for you to make sure that your content is also easy to scan.
Add a heading for each paragraph.
Place subheadings within each paragraph as well.

This makes it easy for your readers to scan the content is key to achieving perfect readability. Your readability will be updated as you write!
INK's Word Task Card in Action


Here's Brooke showing us how to utilize the Word Task.
How can you improve your readability score?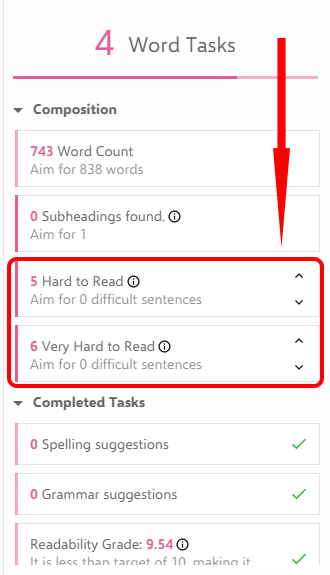 By using INK's readability checker inside the Word Task card and identifying areas for improved readability is key.
INK will highlight hard to read sentences and very hard to read sentences.
You can also highlight a few words in those identified sentences and use the INK AI Assistant at the bottom of the INK SEO Editor to simplify your sentences or rewrite them.
Conclusion:
By writing content in a way that is readable, people can read and understand the content quicker. This means that your content will be found easily by people who are actively searching for information on a topic that you are writing about.
This is just one way of improving the effectiveness of your content. There are many other ways to do this.
Relevant Topics, Headline Analyzer, Document Tasks, AI Writing Assistant.
Need more information about Word Task?
Book a demo with us!
You can also learn more about us here.
Got any questions?, suggestions?, or something we might have missed?
Reach out to us via live chat!
Drop us an email at support@inkco.co
or send us a feedback!