The INK Document Editor allows you to export images as .ink files.
We created an INK WordPress plugin to help you import your .ink files, along with images, text and meta data!
Exporting an .ink file
Simply choose export from the File menu.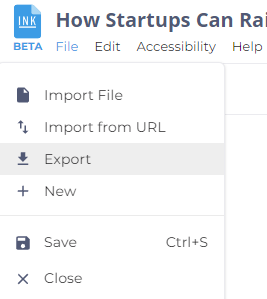 Installing the WordPress plugin
In your WordPress admin panel, visit Plugins.

Click Add New.

Search for INK Official.

Click Install.

Importing an .ink file with the WordPress plugin
Select the INK icon on the top right corner and click the pink Drop .ink file here to import option

Choose the .ink file that you wish to publish and click Open

Your content should populate in the WordPress editor automatically.